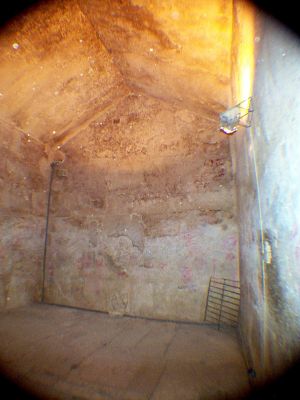 This Chamber is 18 feet 10 inches by 17 feet 2 inches, 15 feet high.
Although this chamber has become known as the Queen's Chamber, it is unlikely that any queen was buried here. Far more consistent with earlier tombs, this room was probably used to house a life-size statue of the king, the internal version of a serdab. A Serdab is a room for the kings "Ka" statue. At Saqqara the serdab of King Zoser, builder of the Step Pyramid at Saqqara, is outside the pyramid in a small stand alone room. Here, it may have been within the pyramid itself.
Entering the chamber and turning to the right we see the west wall. This room has a pointed ceiling and its walls are bare and uninscribed. The walls and ceiling are all made of fine limestone. The floor is curiously rough, almost as though it was unfinished, There is no sign of a coffer and the room is completely void of contents. When this room was entered in 820 AD it looked much the same, minus, of course, the modern lighting.
To the right on the north wall you can see a small airshaft, this shaft does not lead on through the outer surface of the pyramid but ends abruptly after a distance of 240 feet.
There is another similar airshaft, visible below, on the south wall. This shaft was the one that was explored by a small robot called Upuaut II by Rudolph Gantenbrink. After a 250 foot ascent up this shaft, the robot finally discovered a flat limestone plug with two small pieces of copper attached to it. You can read the details of the Upuaut Project HERE.